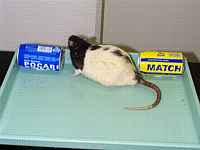 OLETF PROJECT
Otsuka GEN Research Institute, Otsuka Pharmaceutical Co., Ltd
"Otsuka people creating new products for better health worldwide"
---
AIM
Otsuka GEN Research Institute (OGRI) and Otsuka Pharmaceutical Co., Ltd has been taking large efforts to provide the effective medicines for common diseases. OLETF project is a devision in OGRI, seeking for novel drug development by genome-based approaches. OGRI has facilities of gene structual analysis, protein analysis, histopathlogical analysis, and genetically engeneered mice production as well as the OLETF project.
Type II diabetes (non insulin-dependent diabetes mellitus, NIDDM) is a major public health problem worldwide especially in the developed westernized countries, and more and more population are thought to suffer from this complex disease by the change of life style. In Japan, more than 10% of population are affected by type II diabetes. Our aim is to understand the genetic etiology of type II diabetes by the large scale genome analysis. We believe that identification of causative genes of diabetes leads to the development of the novel useful drugs.
OLETF project also provides the rat communities with a large amount of genomic resources to accelerate the rat genomic/genetic researches. The current version of the data includes over 6,000 microsatellite markers, radiation hybrid (RH) framework map, comprehensive microsatellites map, rat gene maps, and rat-mouse-human comparative maps. This site provides the complete set of data, published in Nature Genetics (May 1999) as well as the high-efficiency mapping services against the RH framework map. Some data and services are available through the Wellcome Trust Cente for Human Genetics's servers (University of Oxford).
---
RESEARCH PROGRAM
NIDDM RESEARCH

Congenic Line Breeding (Sorry, Internal Users Only)
NIDDM Gene Map (Sorry, Under Construction)
---
WARRANTY DISCLAIMER AND COPYRIGHT NOTICE
OTSUKA GEN RESEARCH INSTITUTE, OTSUKA PHARMACEUTICAL CO. Ltd, AND THE OTHER ASSOCIATING RESEARCH GROUPS MAKE NO REPRESENTATION ABOUT THE SUITABILITY OR ACCURACY OF THIS SOFTWARE OR DATA FOR ANY PURPOSE, AND MAKES NO WARRANTIES, EITHER EXPRESS OR IMPLIED, INCLUDING THE WARRANTIES OF MERCHANTABILITY AND FITNESS FOR A PARTICULAR PURPOSE OR THAT THE USE OF THIS SOFTWARE OR DATA WILL NOT INFRINGE ANY THIRD PARTY PATENTS, COPYRIGHTS, TRADEMARKS OF OTHER RIGHTS. IT IS PROVIDED "AS IS."
This software and data are provided as a service to the scientific community to be used only for research and educational purposes. Any commercial reproduction is prohibited without the prior written permission of Otsuka Pharmaceutical Co.,Ltd.
Copyright © 1999 Otsuka Pharmaceutical Co., Ltd
All Rights Reserved
---
STAFF
Otsuka GEN Research Institute, Otsuka Pharmaceutical Co., Ltd. (JPN)
Takeshi K. Watanabe, Shiro Okuno, Yuki Yamasaki, Haretsugu Hishigaki, Toshihide Ono, Yoshihiro Goto, Hideo Miyao, Toshihiro Asai, Ayako Mizoguchi-Miyakita, Keiko Oga,
Yasuo Irie, Ei-ichi Takahashi, Akira Tanigami
Human Genome Center, Institute of Medical Science, University of Tokyo (JPN)
Yusuke Nakamura, Toshihisa Takagi
Wellcome Trust Centre for Human Genetics, The University of Oxford (UK)
Marie-Therese Bihoreau, Jonathan Miller, Julie Brown, Caleb Webber, Susanne Kiel, Thiru Thangarajah, Philip J.R. Day
Michael R. James, G. Mark Lathrop
Department of Genetics, University of Cambridge (UK)
Linda McCarthy, Susanna L. Kiguwa, Maria E. Davis, Catherine Knights, Angela Smith, Ricky Critcher,
Peter N. Goodfellow,
Research Genetics Inc (USA)
James R. Hudson, Jr.
---
CONTACT
Scientific Comments
Takeshi K. Watanabe & Akira Tanigami
Otsuka GEN Research Institute, Otsuka Pharmaceutical Co., Ltd
463-10 Kagasuno, Kawauchi-cho, Tokushima, Tokushima; Japan 771-0192
Phone : +81-88-665-2888
Fax : +81-88-637-1035
E-mail: oletf@otsuka.gr.jp or watanabe@otsuka.gr.jp
Server Problems
Webmaster (maintained by WWW masters: Toshihide Ono & Haretsugu Hishigaki)
Otsuka GEN Research Institute, Otsuka Pharmaceutical Co., Ltd
463-10 Kagasuno, Kawauchi-cho, Tokushima, Tokushima; Japan 771-0192
Phone : +81-88-665-2888
Fax : +81-86-637-1035
E-mail: webmaster@otsuka.gr.jp
---